Johnnie Clifford Hearn, Jr "Cliff"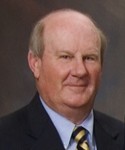 Email
Personal, Commercial, Life and Health Sales Specialist
Direct: 229-273-1264
Cliff began his insurance career in 1977 working for the Johnnie Hearn Agency. In 1984 he started his own agency, The Cliff Hearn Agency. In 1995 he joined Akin Insurance Agency, Inc. Cliff earned his BBA in business administration from Georgia Southwestern State University in 1978.
Cliff is married to Wanda Barry Hearn and they have two children, Heather and Hagen and two grandchildren, Brayleigh Jace Denham and Braxton Kaise Denham.